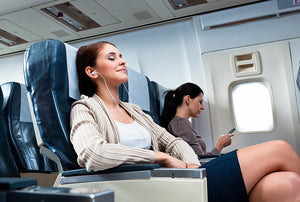 4 Best Motion Sickness Medications
With the COVID-19 vaccine now available for many, people are excited to finally make travel plans.
When to Use Motion Sickness Medication
Unfortunately, while the destination can be full of fun and adventure, the journey there can be hampered by motion sickness.

Beyond air travel or long car rides, if you'll be spending time on the water, you'll be happy that you're prepared with motion sickness medicine.
Most motion sickness medication instructions recommend use an hour or an hour and a half prior to travel or other activities that may cause motion sickness.
Motion Sickness Medicine Benefits
Common symptoms of motion sickness include:
nausea,
vomiting,
dizziness 
Motion sickness medicine is used for the prevention and treatment of the above motion sickness symptoms.
Travel with peace of mind -- find the best motion sickness medications below.
4 Best Motion Sickness Medications
Meclizine 12.5 mg (Antiemetic) 100 Caplets by Rugby 
These motion sickness caplets temporarily relieve symptoms due to motion sickness. Use these to relieve nausea, vomiting and dizziness. Recommended dosage includes 2 - 4 caplets once daily, an hour prior to travel.
---
Meclizine, 25 mg (Antiemetic) 100 Chewable Tablets by Rugby 
This higher dosage chewable provides the temporary relief for motion sickness symptoms that you're looking for. One to two motion sickness chewables should be taken once per day.
---
Travel Ease, Meclizine 25 mg (Antiemetic) 100 Tablets (1 or 3 Pack) by Gericare 
This motion sickness medicine uses a less drowsy formula for all day relief. Recommended usage includes 1-2 tablets once daily. 
---
Driminate, 50 mg (Antiemetic) 100 Tablets by Major
This motion sickness medication is comparable to Dramamine tablets. Recommended dosage includes 1-2 tablets every 4 to 6 hours as needed for adult use or a half tablet every 6-8 hours as needed for children ages 2 - 12.
---
Get Fast Shipping When You Buy Motion Sickness Medicine from Hargraves Online Healthcare, the Recommended OTC Online Shop
Hargraves Online Healthcare has earned a 4.9 out of 5 star rating on Google. There's a reason well over 2,000 customers have taken the time to share their experience about shopping from Hargraves Online Healthcare. 
"Exactly as described and for a great price. Quick delivery. Will definitely order from you again. Thank you so much."
For more information on any of the above motion sickness medications, and to buy motion sickness medicine online, simply click any of the above "Order Online" buttons. 
---