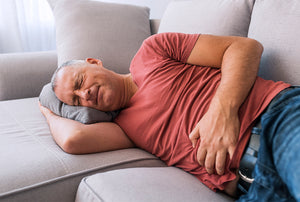 5 Best Bisacodyl Products
Bisacodyl Uses
Frustration from constipation is a nagging problem for many.  Bisacodyl is used as an over the counter constipation medication.
Bisacodyl can also be used as a clean out medication before bowel surgery or bowel exams.
You don't have to just suffer through it. Browse the best bisacodyl tablets and bisacodyl suppository products below.
This stimulant laxative temporarily relieves occasional constipation. Adults and children 12 or older should take 1 to 3 tablets in one daily dose. Children under 12 should take 1 tablet in a single daily dose. With 1,000 tablets, you won't have to worry about running out!
---
Although the 1,000 count tablets will last longer, perhaps you don't need that many; that's why we offer the 100 coated tablets. Both are 5 mg Bisacodyl tablets, but with fewer tablets, you get a lower price. 
---
We Also Carry Bisacodyl Suppository Products
This Bisacodyl suppository offers gentle, predictable and fast relief for constipation. The once-daily Bisacodyl suppository comes in a 10 mg comfort size.
---
Stock up on the 10 mg Bisacodyl suppository with this 100 count package. These Bisacodyl suppositories are fast acting, typically resulting in a bowel movement in 15 minutes to an hour.
---

Get Relief Sooner. Buy Bisacodyl from Hargraves and Get Fast Shipping from a Trusted Company
Hargraves Online Healthcare boasts a 4.8 out of 5 star rating from over 1,600 Google reviews. 
Hargraves Online Healthcare also offers fast shipping plus free shipping on orders over $50.
To buy any of the above Bisacodyl tablets or Bisacodyl suppositories, click on the blue "Order Online" button or click on the product title.
"Great price and fast delivery" - Sidney, a satisfied Hargraves customer
---