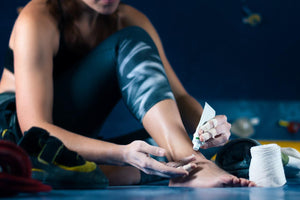 How Do Muscle Creams & Patches Work? Bengay Explained
If you're an active person or have a physically demanding job, you likely suffer from muscle and joint pain on a routine basis. While time is often said to be the best healer, there are many other options to lessen your pain so that you can better enjoy your day-to-day life!
One of the most effective ways to treat sore muscles is using muscle cream. With the right cream, you can simply rub the pain away and get back to feeling like the old you. Muscle rub cream products like Dr. Sheffield's Muscle Rub and Perrigo Muscle Rub have become must-have products,
especially for those who are active and at risk of pulling or overexerting a muscle.
Before you buy medicine online for your sore muscles, here are things you'll want to know about muscle creams.
Active Ingredients in Muscle Creams & Patches

A topical pain killer is a great way to soothe muscle aches and pains. Topical pain relief products work by tricking the body into feeling sensations other than pain. For instance, if you've ever used muscle rub or Patches, you know all about the cold and hot sensations.
When you apply a product like Dr. Sheffield's or Perrigo Muscle Rub Creams to the skin, the body experiences conflicting sensations. In turn, these sensations compete with each other and, ultimately, keep pain signals from reaching the brain.
So, which ingredients cause the body to feel hot and cold at the same time? Some of the most commonly used active ingredients in Muscle Rubs & Patches products include:
Menthol
Methyl salicylate
Trolamine salicylate
Capsicum
Lidocaine
If you've ever wondered "Do Muscle Rubs work?" or "Does Muscle Rubs or Patches actually work?" the answer is Yes!
Different Types of Muscle Rub & Patches Products
Aside from cooling and warming Rubs, there are Patches that are designed to minimize the pain from sore muscles. Products that have topical analgesic in them, such as Theracare Pain Relief Lidocaine Patch and Salonpas.
Applying Muscle Cream
In order to most effectively and safely use a muscle rub product, there are some rules you'll want to follow. First and foremost, ask your healthcare provider or Pharmacist if the product is the right one for you to use, Secondly, ALWAYS read the directions before using any product! they may have interactions not only with your medications but if you have any skin issues, for example; damaged skin or open wounds or may cause burns if used with heat
Other tips include:
Avoid applying the product under a tight bandage
Avoid contact with the eyes and genitals
By following these steps above, you can experience the most relief from your muscle pain. 
Hargraves Online Healthcare: Your Cure for Sore Muscles
If you're looking for the best cream for sore muscles before and after a workout, look no further! At Hargraves Online Healthcare, you'll find Muscle Rubs & Patches to soothe your sore muscles so that you can get back to feeling great!
Our top muscle rub cream & Patches products include Dr. Sheffield's & Perrigo Muscle Rub Cream as well as Salonpas & TheraCare Patches. What's great about purchasing from Hargraves Online Healthcare is that you can order online from the comfort of your home, plus we offer free delivery on orders of $35.00 or more!
Place your order through our website or feel free to reach out via phone at (315) 887-5199.
---